Transform doubt 🥀 into confidence.🌹
Do you ever feel doubt…that negatively impacts your ride?
Do you have a nagging feeling that you could achieve more with your horse…but you're not sure what the next step is?
Does training your own horse feel overwhelming at times?
Do you consistently reach your goals with your horse?
Have you found yourself thinking 'just being with my horse' is enough…but you wish you could also have more?
🌻I have faced all of these issues at some point on my own journey. Thankfully I found solutions and I want to share them with you!🌻
What would it be like to go to the barn with confidence?
What would change if you felt doubt creeping in... but you had a plan for how to overcome it?
What if next time you headed to the barn…and things didn't go as planned…you felt curious and open instead of frustrated? 
🌼For me, these things have been game changers. I went from being a frustrated horse trainer to loving my daily interaction like I was a child again...only better because I not only have the passion I did as a child but the knowledge I have gained as an adult. 🌼
TRAIN YOUR OWN HORSE WITH CONFIDENCE COURSE
Private Training with Stacy Westfall
This 8 week course will include:
Day 1--You and I privately discussing your aspirations and challenges
An assessment of your skills
A customized daily plan for you and your horse
Private live meetings via Zoom
Unlimited Q & A using a private chat feature 
Weekly video review sessions of you and your horse on your own private page. 
Continue reading to learn more about this customized course that is designed for you and how I can help you reach the goals you have been wanting to achieve with your horse.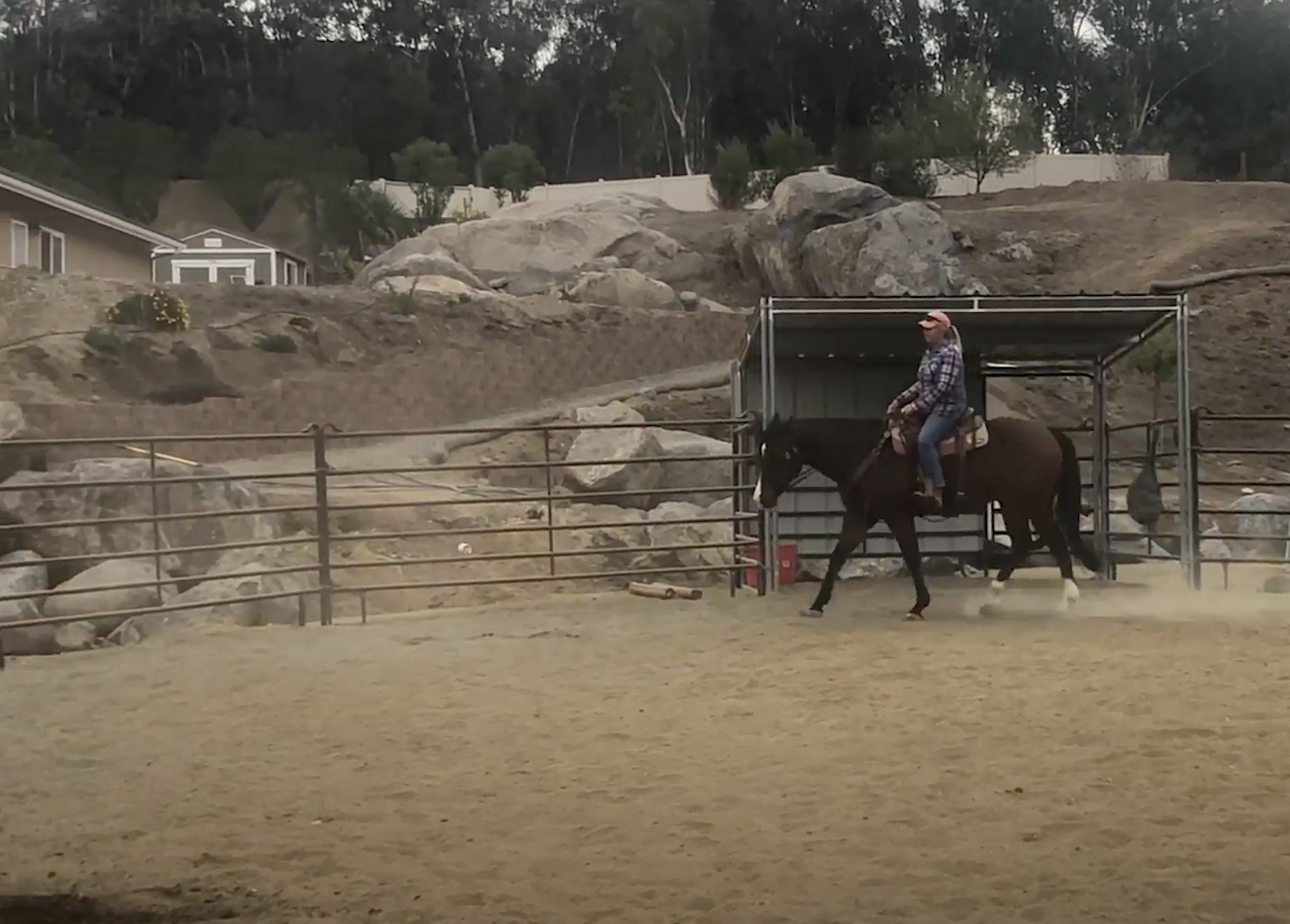 Learn with Stacy.
Ride at home.
Inviting Stacy into your riding space allows for some unique opportunities. Through the use of video you have a unique opportunity to change your habits where you practice every day. In addition, Stacy can also give you insights into other creative ideas for your training sessions.
During this coaching session Stacy noticed the hill and driveway in the background and was able to explain to Linda exercises that would help with engagement and collection when ridden on the hill. 
The transformation after this particular session was notable and both horse and rider enjoyed the change of work area!
I am offering a limited number of people the opportunity to work directly with me for three weeks. This will allow us to discuss your unique aspirations and challenges. I will help you create a customized plan for you and your horse.
My goal is to help you see the opportunities you have all around you. Often times we limit ourselves with our own thinking. We train the same way every day…while dreaming of different results.
By teaching you and your horse at YOUR barn…you not only save the time and expense of traveling to Ohio…you can permanently change your habits.
During this course I will help you develop a custom plan, I will assess your skills, and I will teach you how to repeat the process on your own.
At the end you will know more about yourself, your horse, and how to determine your next steps.
Are you ready?
Spaces are limited.
Ready to get started?
Great!
STEP 1: Please review the FAQ at the bottom of the page
STEP 2: Use the application form below to apply or click here for immediate access to application.
Frequently Asked Questions
How will we meet?
This is a mix of live meetings with Stacy using Zoom (or phone if you prefer), Q&A using a private chat feature, and custom milestone assignments for you and your horse.
This course includes weekly, one to one video calls, daily milestone assignments you will find inside your own private page, video review sessions, and worksheets.
When will we meet?
We will meet virtually using a combination of live video calls, daily milestones, and video review sessions.
The live call schedule will be determined during your interview process to ensure it fits your schedule.
The daily milestones, video reviews and chat option are self paced (with Stacy watching over your virtual shoulder:)
Based on your application, interview and goals Stacy will create custom milestones for you. These are small assignments designed to move you toward your overall goal.
This sounds like a lot of technical stuff...I'm not sure I can do all of it?
Now you know how your horse feels when you start teaching a new thing!
Here are the technical things you'll need to be able to do.
#1- Come to this website, login (see, you've already done one)
#2- Live phone call or Zoom call (I will email you the link). Watch this video to see how this is done: https://youtu.be/hIkCmbvAHQ
#3- Upload a video and share the link. The two most popular ways people send me video are Google Photos or YouTube. Others have used Dropbox. Some have used iCloud.
Google Photos has been the most common way I receive videos so if you're new, consider starting there.
What's the next step?
After applying you will be directed to a thank you page that confirms your application was submitted. You will NOT be asked to pay at this time because class size is limited, your application must be checked against the current class size.
If you have questions please ask them in your application. If there is a spot available you will receive:
1) confirmation of the opening
2) answers to the questions you asked during your application
3) available one-to-one meeting times
Once your questions have been answered and you have selected meeting times you will receive notification of how to proceed to payment.
Please note that meeting times are limited and payment is the final step to securing those times. If there is a delay of more than three days between selecting your meeting times and payment to secure those times you may need to select new times.
How do I schedule my one-to-one sessions?
After your application is received you will answer a series of questions. During this process you will select the month, day and times that work best with both your schedule and mine.
This will all be determined before you pay.
Between your scheduled calls you will also have access through a chat feature which I will check on a schedule and a video review feature.
Video reviews are an AMAZING way to get feedback. The frequency of reviews is somewhat dependent on your goals. We will determine this during your first session but students generally benefit from one to three reviews per week.
Both the chat and video reviews are designed to help you if you begin to feel stuck between your scheduled calls. You are not required to be heavily active with chat or video...but they are there for you as you need them.
Have questions? Fill out the application and ask! Remember you will not be billed until step three!
Can I purchase coaching more than once?
Absolutely! Many people find repeat lessons, clinics, and coaching are of great benefit. I love seeing the progress people make between sessions!
What is the price?
The current price for creativity, accountability, coaching, ideas, assessment & feedback in this eight-week course is $3,000. I would encourage you to think of this as an investment in your continuing education. The skills and mindset that are learned will impact all future horses you interact with.
Can I get a refund if I'm unhappy with my purchase?
If you are not sure that this is the right choice for you please do not purchase at this time.
Some nervousness is normal when trying something new. When you apply there is no credit card required until you have been accepted.
It is your responsibility to ask questions to ensure this is the best path for you at this time.
I recommend you commit 100% and then make your purchase.
Have a question you don't see answered here?
I would love to make this FAQ comprehensive. If you have a question I didn't answer, please email me at [email protected] with 'Advancing at Home' in the subject line.