What students are saying:
"I can't type fast enough... I'm so excited to share this story. Yesterday I had one of my worst rides yet attempting spiral out (outside rein only) for the first time. Stacy read my questions related to that on the zoom call last night and offered a variety of helpful suggestions. I was excited to try them today.
YES!!!!!
All 3 of my horses had the lightbulb go on today! (And quickly!) They didn't change - I did. The horses went from being resistant, frustrated, and sluggish to being energetic, willing, and smart. They all found it easily when I was able to help them find it under Stacy's guidance. It feels like magic; but it was nothing more than changing my attitude and the approach. By asking for less of a bend to the inside, establishing a cadenced rhythm, floating my hand out (leading, not pulling), using more leg and LOOKING at the new path I wanted the shoulder to travel, everything clicked. I asked for just a step at first (letting them float back to the circle or even stop) and offered praise and gentle release. We then added steps. They can all do a full spiral out circle now in both directions. It was so FUN!
I told myself that I would try all of the suggestions today and keep a playful attitude. If anything started getting frustrating, I planned to stop and return to basics (walk, trot, lope, stop & transitions.) The right attitude combined with active coaching from Stacy turned one of my worst days (yesterday) into one of my best (today!)
THANK YOU, THANK YOU, THANK YOU! Stacy - you are the best."-Sheila L.
________
"Who would have thought that a horse trainer would be the most influential therapist in my personal psychological healing? You, Stacy, have enabled me to overcome obstacles that were blocking healthy relationships in my life, with humans, horses, dogs, all living things, and especially with myself. I have learned to be more aware of what I (and others) am doing, the why (mind) and the how (body) I am doing it, resulting in the realization that I am my own agent and actually know how to make intelligent choices, though they may be difficult. You have no idea how enormous the change in me has been, which naturally flows out and pours onto the relationship with my horses. Thank you."-Donna C.
________
"I am so happy with Mikey's progress and getting so excited about where we are headed, we had a bit of a rocky start but with your help and clarity I think he's going to be my little superstar 😍
The funny thing is I feel like I have alot of the answers, I just don't trust myself enough to believe I am right, self doubt has been the biggest thing holding me back and your course & video reviews are helping tremendously, Thank you so much for your time. I have also felt that your changing slightly and improving in the way your teaching and encouraging your students, it's true that even at your level and experience we never stop learning, evolving and becoming better versions of ourselves."- Kylie G.
________
"Thanks so much for the zoom call on creating a training plan. I took your suggestion regarding writing down the plan AND all the resistances to that plan that my mind offered. My mind apparently has a LOT of obstacles identified:
"This is taking a lot of effort (just to create the plan)"
"There's not enought time to do everything I am planning"
"This is too much riding for Josie (my 4 year old)"
"This won't leave enough time to work Peanut (my 2 year old)"
"Pirate (my 6 year old) will get resistant toward the end of all this work"
"What if Pirate is still not 'getting it'?"(we are currently struggling with Right lead departure "Oh, but I want to move on to other exercises, shouldn't we move on?"
"But video set up is such a pain and it takes a long time!"
"Won't Josie get bored?"
"isn't that too many transitions in a row to plan?"
"shouldn't I just jump to what we are stuck on? (right lead departures)"
"Isn't 10 too many?"
"More videoing?...geesh!"
Identifying and paying attention to all these resistances has somehow made it easier to stick to my plan the last 3 riding sessions! I spent more than my allotted half hour that you suggested, but it was my first time actually trying to plan out how I would ride 2 horses in April.
Next iteration of creating a training plan will likely take me less time, so I look forward to it.
You really are helping me to train my own horses and I am enjoying it. thank you 🙂
-Allison L.


Live Zoom calls, student video reviews, coaching and more!
Live weekly coaching through December 2023!

"It's encouraging to know I'm not alone! Sometimes in an online course there's a sense of isolation. Not here...thank you."-Kathryn



What you'll find inside this course.
Correction: in this video I say we will meet twice a month...now we are meeting WEEKLY through 2023!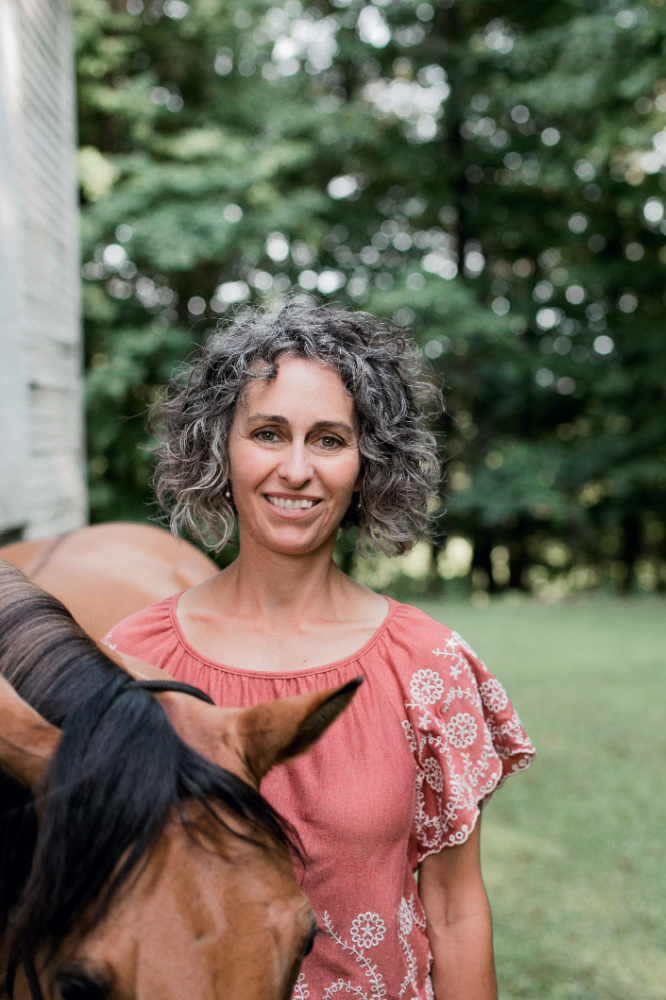 What makes this program different?
I'm committing to be your coach, every week, from now through December 2023.
This course can improve your relationship with your horse AND results with your horse.
All the information you need to make massive progress is here.
Click each of the courses above to see details.
I'm all in. Are you?


Frequently Asked Questions
When does the course start and finish?
The course starts now and never ends! It is a completely self-paced online course - you'll decide when you start and when you finish.
How long do I have access to the course?
How does lifetime access sound? After enrolling, you'll have unlimited access to this course for as long as you like - across any and all devices you own.
What if I'm unhappy with the course?
We would never want you to be unhappy! If you're not satisfied with your purchase, contact us in the first 30 days and we will give you a full refund.
How do I attend the live weekly calls?
It's easy!
Click here and scroll down to see the dates and times of upcoming calls.
Once you are enrolled you will see gain access to the zoom links as well as the full library of recordings. There will also be information on how to submit a question or video for review.