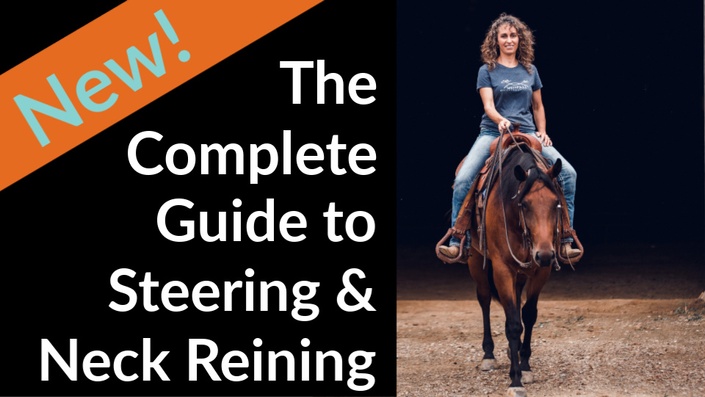 The Complete Guide to Improving Steering & Teaching Neck Reining
Step-by-step instruction for understanding the training, learning correct rider aids, and creating excellence in steering
Watch Promo
This course is closed for enrollment.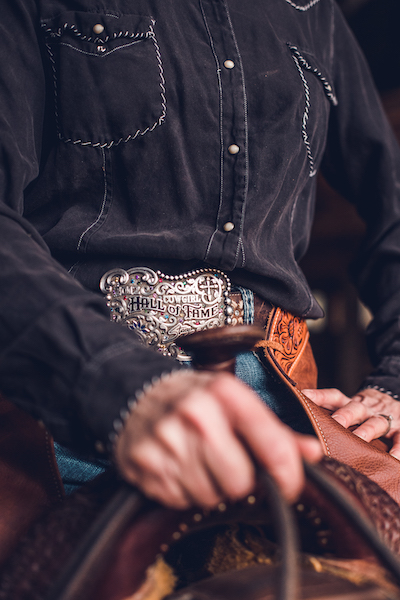 Do you want to understand the whole steering process...so you could figure out what to work on next?

Do you feel confused at times about which aid to use when?

Do you wish you could simplify the aids you're giving your horse?
Does your horse seem frustrated...and you suspect your inconsistency could be to blame?

In this course, Stacy clearly explains the stages of training, the techniques in each stage, how she uses them, and why.

She shows examples of horses that are confused and frustrated and demonstrates the appropriate way to handle them.
If you are a rider who strives to understand training from the horse's point of view, with actionable instructions on how to train your own horse, this course is for you.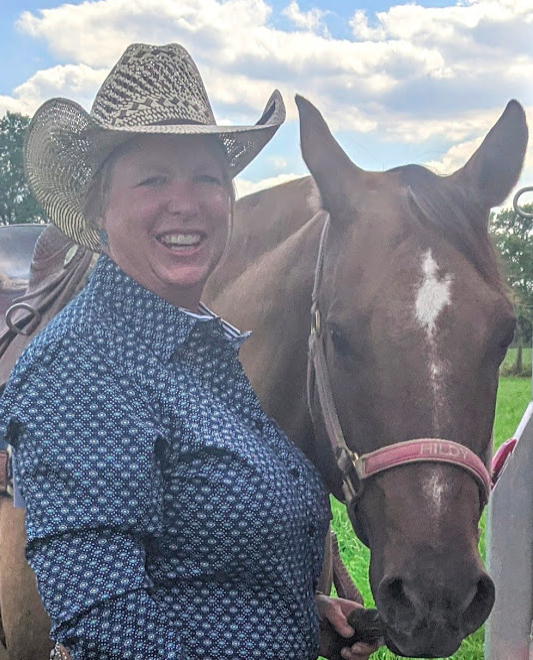 "For many years I could never get Hildy to slow down and I really wanted to learn how to ride one handed. I tried to get professional advice locally but no one could help me. I had pretty much lost hope on Hildy ever slowing down and being able to ride one handed until Stacy taught me---"The Second Hand Slide". When I learned about the "Second Hand Slide" and the "Hug" my horse totally changed!!! She slowed down, became collected, and it felt AWESOME!!!
I still cannot believe that my horse can walk/trot/canter nicely, with a collected frame while I am riding one handed. This was a HUGE breakthrough with my horse. Thank you so much Stacy for always providing easy to understand lessons and techniques that I can follow and apply with my horse. The results have been OUTSTANDING and I am so HAPPY!!" -Martina Brown & Hildy
About the Course
The Complete Guide to Steering and Neck Reining is just that; complete.
In this course, Stacy takes you on an in-depth look at the stages of teaching a horse to steer.
She clearly explains how and why each stage exists and shows you how each stage layers onto the next.
She explains common rider mistakes and shows some of the mistakes that horses make during the learning process also.
Stacy has done the hard work of condensing all of this into short, bite-sized video clips. The main teaching segments are less than ten minutes each, making them easy to watch and even easier to navigate back to for future reference.
For those of you who want to go deeper, Stacy has created 'deep dive' modules which can be considered 'extra credit' for students who want to take an even deeper look.
After thoroughly guiding you through the stages of steering, Stacy takes it one step further by giving you 'Audio Ride Guides'. These are audio files that you can listen to using your smartphone while you ride.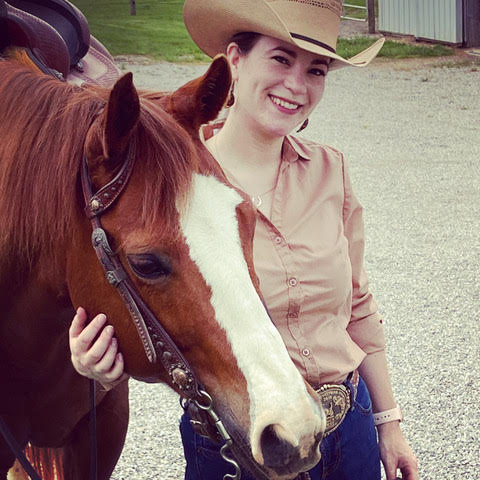 "I've been riding and showing for over 25 years, my horse is a well-broke veteran, and we compete successfully, so I thought this class would just be something I'd tuck away for if I ever decided to start a young horse. Instead, the simplicity in which Stacy breaks down each element of steering exposed substantial holes in my own understanding of rein communication! After working through the course, our communication has improved tremendously. Things I used to think my horse just "couldn't do" (such as keeping a consistent bend on a neck rein) we are doing easily and consistently.
I am a college professor, and I assure you the course is extremely well designed and offers an easy to navigate, go-at-your-own-pace experience. Whether you're a visual, audio, or kinesthetic learner, varied examples are provided to cover all learning styles. This class was absolutely worth the investment." -Rebecca
What is an 'Audio Ride Guide"?
Changing habits can be challenging. But gone are the days of trying to remember what the instructor said as you practice new techniques. With Stacy's Audio Ride Guides, you'll be coached through each technique while you practice riding the pattern she's taught you.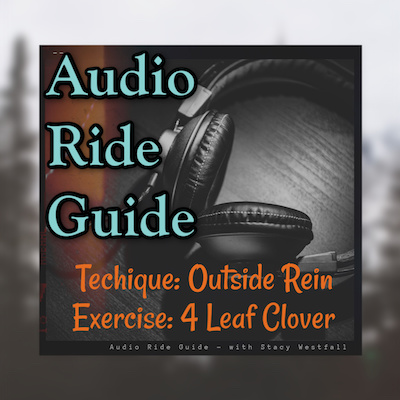 Here's what other students had to say about the Audio Ride Guides:
"I loved the 'relax and shoulder roll' along with all the cues, and the timing was extremely helpful! It kept the ride consistent and held you accountable for not leaning forward, being too quick with hands and not using legs…. This is brilliant because it will build confidence, consistency and muscle memory! Love, love , love it!"-Lisa

"It was a great audio. I felt very comfortable and knew what you meant every step of the way... Reminding me to breath, roll shoulders back, massage mouth, move hands back and forth, and be aware of head placement really helped me focus. I really enjoyed it! One thing I realized is that my focus was on what you were saying and applying it while I was riding---Could not think of anything else....just on what I was doing (not dinner or work tomorrow) Kinda like yoga--where you clear your mind and focus on what you are doing. :)" -Martina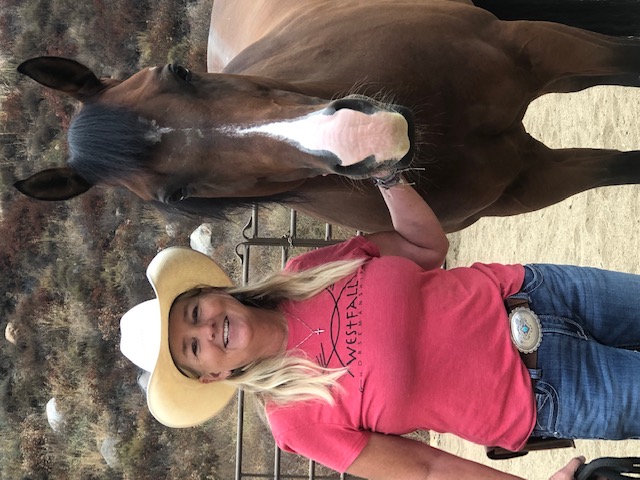 "I have been wanting to neck rein my horse for the last few years and people that tried helping me and my horse didn't really have a precise explanation on how to do it. When I saw Stacy had a new course on Steering & Neck Reining I was so excited and ordered the class and immediately started watching the modules. Stacy does such a wonderful job with her video work. It's very detailed on the steps you need to do to get to each step. My horse and I are elementary level. Stacy has videos for every level. Oh, and one of the greatest tools is the Audio Ride Guide. I felt Stacy was there watching me ride. She would say breathe .. right when I needed to breathe. I would laugh thinking, "Stacy you are here watching us".
The great thing about this course is I have gone through all the modules and my horse and I have come a long way but we still need more work. I love being enrolled in Stacy's courses. I can log in anytime and review or learn next steps at anytime.

Thank you Stacy Westfall for creating the your Course Curriculum. Your courses and video work are very professional and right on the mark for helping us train our horses." -Linda Turner & Del

Your Instructor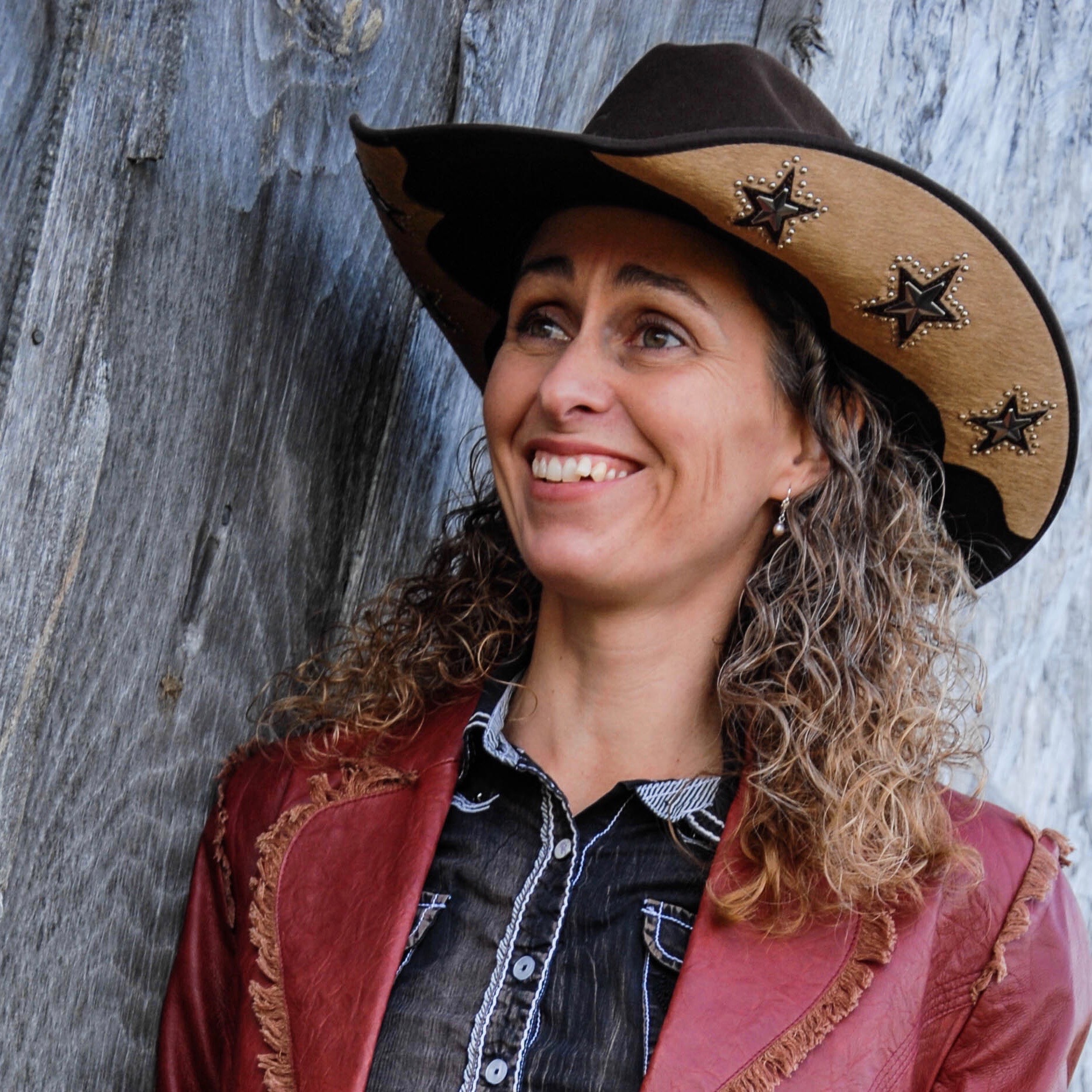 Great insight and an effective teaching style have made Stacy Westfall one of the most popular and sought-after clinicians in the horse industry.
Stacy Westfall is an AQHA and NRHA Freestyle Reining Champion who dazzled the horse world by winning top-level competitions while riding both bridleless and bareback. Her famous Quarter Horse Congress Freestyle Reining Championship ride, seen by millions on the Internet, led worldwide acclaim and appearances on the Ellen Degeneres Show.
In addition to her accomplishments within the reining arena, Stacy Westfall was the first woman to win the highly competitive Road to the Horse colt starting competition. In 2012 Stacy was also inducted into the National Cowgirl Hall of Fame in Fort Worth, Texas. With her husband, Jesse, she presents clinics at venues worldwide to inspire and teach people how to build better relationships with their horses.
August 2020 Live Launch?
What is a 'live launch' means two things.

1- the course is currently open for enrollment and will close
2- there will be special updates and bonus live coaching opportunities
When will enrollment close and why?
Enrollment for this session will close August 20, 2020. Opening and closing enrollment allows me to take a group of student through the class together. This allows me to dedicate time to review student submitted videos, to schedule live Zoom meetings and to create updated modules for the course.

What are student video reviews?
During launch periods I encourage students to submit videos of themselves trying out the techniques and patterns. I will then offer feedback, suggestions and answer questions based on what I see in the video.

The video review process will run August 27th through September 10th. During this time I will review videos that are submitted by students.
Also...
During this launch, I will be doing some 'updates' on Presto's training progress inside the course. In many of the Modules, Presto is an example of an 'Elementary Level' horse. It will be fun for you to see him later as he progresses to 'High School' level...and beyond. Will you join us?

Ride with Faith,

Frequently Asked Questions
When does the course start and finish?
The course starts now and never ends! It is a completely self-paced online course - you'll decide when you start and when you finish.
How long do I have access to the course?
How does lifetime access sound? After enrolling, you'll have unlimited access to this course for as long as you like - across any and all devices you own.
What if I'm unhappy with the course?
We would never want you to be unhappy! If you're not satisfied with your purchase, contact us in the first 30 days and we will give you a full refund.